NK100 is a first-in-class natural killer (NK) cell cancer immunotherapy comprised of adaptive memory NK cells, a highly specialized and functionally distinct subset of natural killer cells. We are executing on a multi-pronged clinical development strategy for NK100 addressing both hematologic and solid tumor malignancies, including as a monotherapy and in combination with other anti-tumor agents such as monoclonal antibodies.
In preclinical studies, NK100 has demonstrated enhanced anti-tumor activity across a broad range of liquid and solid tumors, improved persistence, and increased resistance to immune checkpoint pathways compared to NK cell therapies that are being clinically administered today. Additionally, NK100 has been shown in preclinical models to significantly augment antibody-directed cellular cytotoxicity against cancer cells when administered in combination with a monoclonal antibody, including antibodies that target CD20, HER2 and EGFR antigens.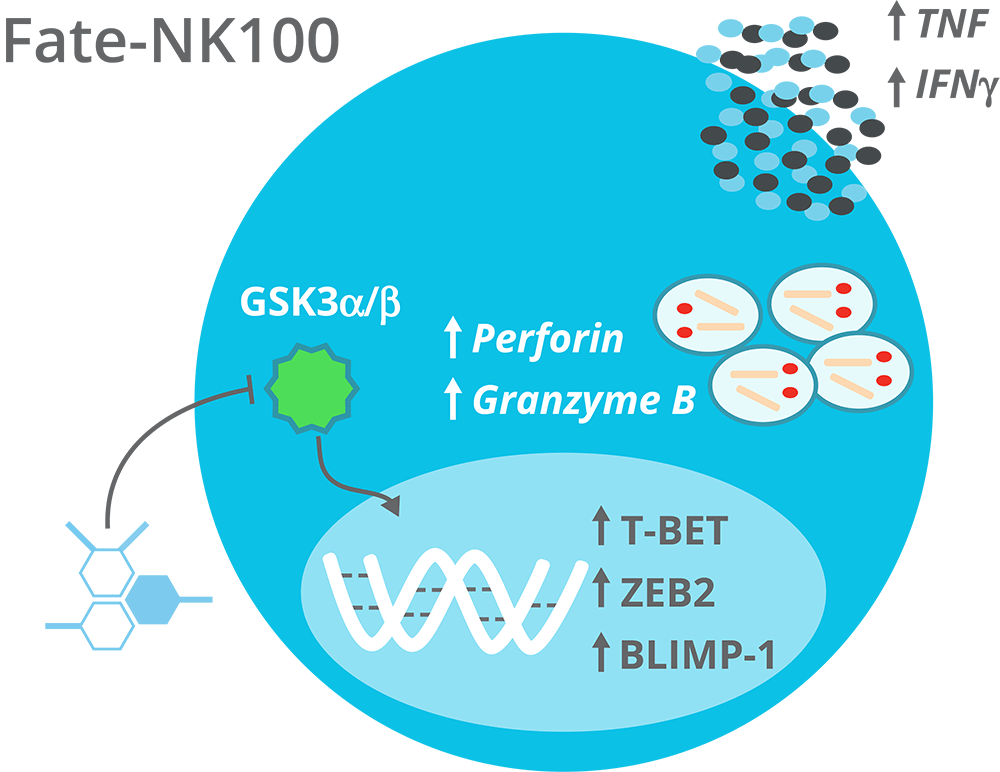 NK100 is produced through a feeder-free, seven-day manufacturing process during which natural killer cells sourced from a healthy donor are activated ex vivo with pharmacologic modulators, inducing the robust formation of adaptive memory NK cells.


Compelling preclinical and clinical data indicate that NK cells mediate the therapeutic effect of monoclonal antibody therapy by recognizing and efficiently killing antibody-coated tumor cells via a potent immune response mechanism known as antibody-dependent cellular cytotoxicity (ADCC). The combination of NK100 and monoclonal antibody therapy is designed to enhance ADCC by administering an activated population of healthy allogeneic donor NK cells to augment the killing of antibody-coated tumor cells.
The Company has initiated the DIMENSION study of NK100 in subjects with advanced solid tumors who have progressed on or failed available approved therapies. The DIMENSION study is a multi-center, open-label, accelerated dose-escalation Phase 1 clinical trial of NK100 when administered as a monotherapy and in combination with trastuzumab or cetuximab, two FDA-approved targeted monoclonal antibody therapies that are widely used today to treat various cancers.


A first-in-human clinical trial of NK100 has been initiated at the Masonic Cancer Center, University of Minnesota for the treatment of refractory or relapsed AML. The VOYAGE study is utilizing accelerated dose-escalation to evaluate the safety and determine the maximum dose of a single intravenous infusion of NK100. The anti-tumor activity of NK100, including clearance of leukemic blasts and rates of complete response, disease-free survival and overall survival, is also being assessed.


The first-in-human APOLLO Study of NK100 was initiated at the Masonic Cancer Center, University of Minnesota to investigate the safety and activity of escalating doses of NK100 administered intra-peritoneally in women with advanced ovarian, fallopian tube or primary peritoneal cancer. This setting provides a unique opportunity to evaluate the persistence and anti-tumor activity of NK100 when delivered directly to the site of tumor via IP administration.
Recent Publications and Announcements